On November 7th and 8th 2023, a significant gathering unfolded in the vibrant city of Palermo, Sicily, marking the second face-to-face meeting of partners committed to advancing Community radio project. Hosted by L'Associazione Uniamoci Onlus, the days were packed with rigorous discussions, planning, and a showcase of local community radio and podcasting activities.
A Warm Welcome in Palermo
L'Associazione Uniamoci Onlus, known for their fantastic work in community development, opened their doors to welcome partners from Ireland, Denmark, and Germany. The main office of L'Associazione Uniamoci Onlus became a hub of collaborative energy, setting the stage for a day of productive discourse and planning.
Focus on WP2 and WP3
The primary agenda for the day was WP2 (Work Package 2) - Community Radio Inclusion and Training Programme, expertly led by Momentum and Outside media. This discussion revolved around finalising the content for the various practical training modules. The meeting then transitioned to a detailed discussion on WP3 - Digital Badges Programme. The partners delved into the technical planning, exploring innovative approaches to make the digital badges system more effective and accessible. A significant part of the discussion was dedicated to establishing the criteria for learners to earn these digital badges, ensuring the system was both challenging and rewarding.
A Glimpse into Local Activities
A highlight of the meeting was the opportunity for the partners to witness firsthand the impressive community radio and podcasting activities undertaken by L'Associazione Uniamoci Onlus. These activities showcased the potential impact of community-driven media initiatives and provided valuable insights into the practical application of the projects discussed.
A fantastic night for RLP's partner RosFM94.6. Their two entries for the annual CRAOL Community Radio Awards scooped THREE awards. Firstly the Traditional Irish music and Folk show presented by Therese Hanly took a SILVER award for her initiative bringing in local musicians to perform and to tell their stories.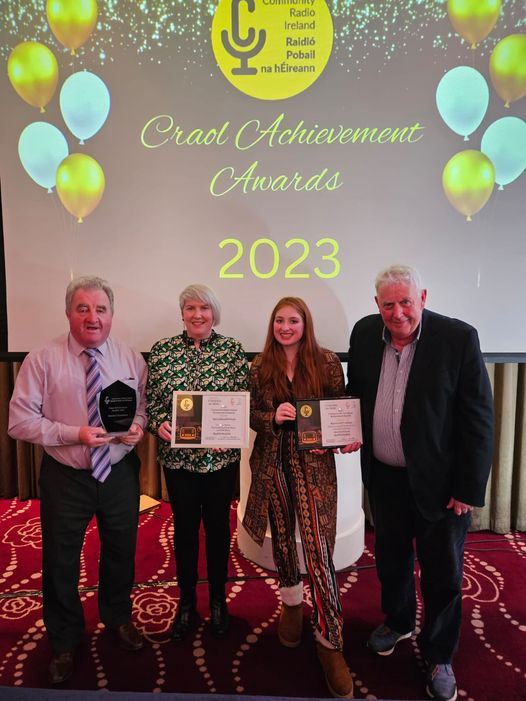 Our second entry 'Our Friends From Ukraine' which was compiled by three Ukranian women, Olena, Iryina and Tatiana and which went out every week, telling the story of Ukranian culture and their shared experiences of life in Roscommon. It won a GOLD award and was also chosen as a Standout Submission' as one of the best radio programmes of the year on Community Radio nationally.
Well done to all and especially to Louis Fargo who edited the programmes. It is a huge boost to the station and to all the volunteers who work so hard every day of the week to make RosFM94.6 such a success
In the ever-evolving landscape of adult education, digital badges have emerged as a significant and transformative element. These badges are not just digital symbols; they represent a learner's achievement and skills, serving as verifiable digital credentials. This post explores the concept of digital badges and their numerous benefits in the realm of adult education.
What are Digital Badges?
Digital badges are online representations of a skill or achievement. They are typically awarded by educational institutions or training providers upon the completion of a course or mastering a specific skill set. These badges can be shared on various platforms, such as LinkedIn, personal websites, or digital CVs, providing a comprehensive view of an individual's professional and educational accomplishments.
Benefits of Digital Badges in Adult Education
| | |
| --- | --- |
| Recognition of Skills | Digital badges offer tangible evidence of learning and skill acquisition. For adult learners, who often engage in education while managing work and other responsibilities, these badges serve as a formal recognition of their efforts and competencies. |
| Motivation and Engagement | Earning digital badges can significantly boost motivation. Adults are more likely to be engaged in their learning journey when they can see a clear indication of their progress and achievements. |
| Enhanced Employability | In today's job market, employers seek candidates with verifiable skills. Digital badges provide a credible way for adults to showcase their competencies to potential employers, enhancing their employability. |
| Flexible Learning Paths | Digital badges allow for the creation of personalised learning paths. Adults can choose courses and skills that align with their career goals and interests, collecting badges that reflect their unique educational journey. |
| Lifelong Learning | The concept of digital badges aligns perfectly with lifelong learning. They encourage adults to continually update their skills and knowledge, staying relevant in a rapidly changing world. |
| Ease of Sharing | Digital badges can easily be shared on social media, professional networks, and resumes. This visibility not only celebrates the learner's achievements but also showcases their commitment to professional development. |
We want to hear from you!
As part of the COMMUNITY Radio Project, we are creating our own Digital Badge programme alongside the Training modules. To really understand the needs of our target audience of Adult learners, we created two surveys aimed at understanding the learning preference of Adult learners. If you are an educator or adult learner, please take 2 minutes to complete the short survey below:
Linked HERE is a survey to discover what ADULT EDUCATORS views on digital badges are, by taking the survey you will help us create a Digital Badge programme that meet the needs of your adult learners, especially adults from a more disadvantages background.
Linked HERE is a survey to discover what the ADULT LEARNERS views and opinions are on digital badges, by taking the survey you will help us create a Digital badge programme that meets YOUR needs!
In today's rapidly evolving world, the importance of inclusive media cannot be overstated. Community radio, with its grassroots approach, plays a pivotal role in fostering inclusivity by giving a voice to diverse groups and perspectives. One of the standout formats that community radio often employs to achieve this is the magazine programme. But what makes magazine programmes so special, and how do they contribute to building inclusive communities?
Diverse Content for a Diverse Audience
Magazine programmes are a melting pot of subjects, ranging from arts and culture to lifestyle, health, travel, technology, and beyond. By covering such a wide array of topics, they ensure that every listener, regardless of their background or interests, finds something relatable. This inclusivity in content reflects the diverse tapestry of our communities and ensures that everyone feels seen and heard.
Structured Yet Fluid: Feature Segments
The beauty of magazine programmes lies in their structured yet fluid format. Distinct segments dedicated to specific topics allow for depth, while the variety ensures listeners remain engaged. Whether it's an in-depth review, a how-to guide, or a spirited discussion, there's a place for every voice.
Amplifying Voices: Guests and Interviews
Featuring experts and notable figures from various fields not only provides valuable insights but also showcases the diversity of expertise within our communities. These interviews serve as a bridge, connecting listeners to local heroes and global experts, emphasizing that knowledge and inspiration come from every corner of our society.
A Two-Way Street: Interactive Elements
Community radio is all about the community. Encouraging audience participation transforms passive listening into an active conversation. Whether through call-ins, emails, or social media, listeners have the opportunity to share their unique perspectives, fostering a sense of belonging and mutual respect.
More Than Just Information: Entertainment Value
While information is vital, entertainment stitches the fabric of community radio. Music, comedy, storytelling – these elements of creative expression resonate with the soul, reminding us of our shared humanity and the joy of collective experiences.
From Our Streets to the World: Local and Global Coverage
Magazine programmes masterfully balance local concerns with global trends. This dual focus ensures listeners are grounded in their local communities while staying informed about the broader world, promoting a sense of global citizenship.
Learning Together: Educational Value
Education is empowerment. By offering content that educates, magazine programmes equip listeners with knowledge, from historical insights to practical life skills, furthering community development and individual growth.
Magazine programmes, with their diverse and inclusive approach, are a testament to community radio's power in building bridges, fostering understanding, and celebrating the rich diversity of our communities. As we tune in, we're reminded that every voice matters and that, together, we can create a harmonious and inclusive world.
January/February 2023

They have been very busy months: the partners are still working on the redaction of the due strategies to
ensure a successful project management and visibility and dissemination. Our aims relevant and everything needs to be properly planned. And, what is more interesting, a transnational team of researchers and trainers is editing a learning
programme composed by:
a technical training – how to produce the broadcast content?
Soft skills training – how to communicate diversity values in radio content?
Programme marketing – how to promote the radio content?
The learning programme is going to be published as Open Educational Resource that ADULT EDUCATORS
and COMMUNITY RADIOS can freely to adopt and use to educate diverse adult learners (including
volunteers.
Community Radio Empowering Unheard Voices - COMM UNITY is a project co-funded by
the European Union under the Erasmus+ programme.

It originated from an idea by Roscommon Integrated Development Co. Ltd t/a Roscommon
LEADER Partnership from Ireland, the project coordinator, who, accomplishing their local
mission of welcoming Ukrainian refugees, realized "We do not want to just provide basic
physical needs for these families. They need to know their voices will be heard; they have
stories to tell." It started a fruitful collaboration with community radio and saw the vital role
they play, representing a powerful tool for community voices to be heard and learning to
be exchanged.

With their passion to fast-forward innovation in adult education, in February 2022, together
with MOMENTUM MARKETING SERVICES LIMITED - an Irish organization with a
successful history of implementing inclusion initiatives and projects aimed at adult
education and civic participation, they have committed to design this cross European
initiative and boost inclusion and participation of diverse, vulnerable communities through
radio and podcast media.

The COMM UNITY project European network of partners has been extended to: Outside
Media & Knowledge UG (haftungsbeschränkt) from Germany, with their experience in
communicating with hard-to-reach youth about equality, diversity, promoting positive
narratives about any differences and no discrimination via their online community, their
Outside Multicultural Magazine, video campaigns and podcast production; Uniamoci from
Italy, who hosts the web radio channel Radio Senza Barriere, managed by adults with
disabilities; the European Elearning Institute from Denmark, involved in adult education
and inclusion projects, delivering effective technical solutions in non-formal and informal
education, platforms, and toolkits.

A few months later, in September 2022, COMM UNITY became reality and its mission to
empower community radio organizations and volunteers to become an influential pillar of
adult education in civic engagement of diverse and vulnerable groups, started to guide the
path of the 5 partners.

A path towards the creation and free distribution of valuable tools and opportunities as an
open-source training for adult learners to build civic, personal and interpersonal, and digital
capacity; a digital credentials system to recognise the learning outcomes; a community
placement guide for adult educators and community radios; a podcast series that elevates
diverse, marginalized voices as an applied learning approach.
Accessing skills and resources to facilitate inclusion will no longer be so hard, thanks to
COMM UNITY.

It brings together all the diverse groups of people, while giving them a voice and a sense
of belonging in the community; it upskills adult educators, with a pedagogical program in
community radio management and podcasting; it boosts cause and community
organizations and radios to a new level of social impact; it promotes inclusive attitudes in
the society.